Rubble is a convertible location, mostly found in the western area.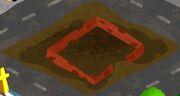 It has got no use at all. It contains no food, and no survivors are located here, unless that they have moved from another square. Only dogs can be found as an equipable item.
You can convert it into Suburbs or a Farm.