The Heliport is a helicopter landing site within the city. It was first added in Rebuild 2 and leads to one of the two available endings that allows you to start over in a new city with up to 5 equiped survivors.
During its reclaiming, it will be found out that the helicopter has been sabotaged and is therefore unable to fly.
Your task to reach the ending will be to repair the helicopter, mostly to reach through the right decisions in reports.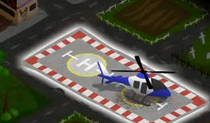 Manhunt for the saboteur.
Edit
A report called "Manhunt for the saboteur" decides whether a suspect should be interviewed about the sabotage act or not. The person is the culript.
Interrogating him will end up deadly. Not interrogating him slows down the repair process and risks another act of sabotage on the border fences
Bob Bila can be found after its reclaiming the airfield if there is still an unscouted Big Farm or Farm nearby the heliport.
Community content is available under
CC-BY-SA
unless otherwise noted.