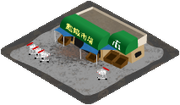 Groceries are buildings that have no use after obtaining, but can be replaced. They have some food or lotsa food stored in them and rarely survivers.
Building Description:
"We've scraped every bit of food out of here, there's nothing left."
Replacement
Edit
You can replace Groceries with Apartment, Laboratory, School, Hospital or Bar.
None