Bob Bila is a scripted survivor which can usually be found on an unscouted field after reclaiming the heliport. He lives as a survivor at a farm/big farm nearby the airfield which proves to be "well-restaurated".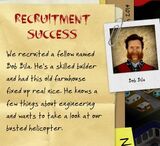 He's a high skilled
builder
, presumably his skill level depends on how long it takes till he's found. Because of a bug, he's a completely untrained survivor on earlier versions like V1.03 .  
In some walkthroughs it is said, that he would speed up the process of fixing the helicopter. It is unclear if he will make a decisive difference, apart from his high building experience. However, the incoming news that comes along with his recruitment leads on the heliport.  

He's a reference to the home improvement show "This Old House" and its former host "Bob Vila". Until 2007 Bob still had a regular television appearance with his follow-up shows and on Home Shopping Network, selling a range of tools under his own brand.
Optically Bob Bila's very similar to Colin Northway, Sarah's husband.