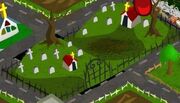 "A damn creepy big graveyard, which we've decided to make part of our fort. Sure that was a good idea?"
In Rebuild 2 and Rebuild, this building cannot be converted to any other building by usual survivors.
In Rebuild, this building is called "Evil Graveyard" are spawn Horde attacks until it's claimed.