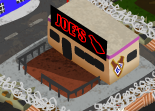 Bar
is a building where survivors can go to receive
happiness
. They can have parties and drink alcohols and bond with each other. You will be given variety of options in replacing, but in using it is only one, the only action that can happen in the bar is the option "
Bartend
"
Building Description
Edit
- "Some people turn to religion and others to drinking, but either way makes them happier."
It's use is to add happiness to your fellow survivors. They can have parties and drink alcohols
Requirement to Gain Happiness
Edit
In order to gain happiness this is what you'll need:
One (1) Survivor to become a bartender in the Bar (Cost - Unlimited Time)

(Keep in mind that when the happiness gets too low people will start riots and preaching and bartending will be stopped)
At one point, your bartender will suggest to run "a little casino" out of her bar.
Allowing this will give you +5 happiness
Replacements
Edit
You can replace this building with Apartment, Hospital, School and Laboratory.